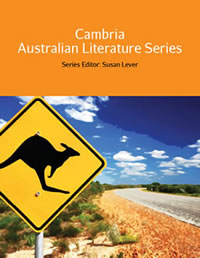 Cambria Australian Literature Series
The Cambria Australian Literature Series focuses on critical studies of writing by Australians, with a particular emphasis on contemporary Australian fiction. In recent decades Australian fiction publishing has outstripped critical study, with the work of many important writers receiving little more critical attention than newspaper and journal reviews, with occasional articles in scholarly journals or collections by diverse critics. This series gives an opportunity for sustained consideration of a writer's full career. In each book, an individual critic engages with the work of a writer, assisting other scholars, students and general readers in understanding its complexities. Each book seeks to find an appropriate, original and lively approach to the writer in question. In particular, the series places the writing not only within Australian culture but also in the context of international developments in the novel.
Cambria Press's first critical monograph on Australian writing was Jean-Francois Vernay's Water from the Moon: Illusion and Reality in the Works of Australian novelist Christopher Koch. In 2008 it moved to establish the series under the general editorship of Dr Susan Lever. So far the series has published critical books on the Australian novelists, David Foster and Brian Castro — Susan Lever's David Foster: the Satirist of Australia (which was shortlisted for the prestigious Walter McRae Russell Award) and Bernadette Brennan's Brian Castro's Fiction: the Seductive Play of Language. In 2012 books published in this series include Professor Michael Ackland's study of Murray Bail's fiction and Dr Brigitta Olubas's work on the novels of Shirley Hazzard. In 2013 Dr Toby Davidson's book Christian Mysticism and Australian Poetry was published. In 2015, Giving this Country a Memory: Contemporary Aboriginal Voices of Australia by Professor Anne Brewster was published. In 2016 Christina Stead and the Socialist Heritage by Professor Michael Ackland, Strangers at Home: Place, Belonging, and Australian Life Writing by Professor Jack Bowers, White Apology and Apologia: Australian Novels of Reconciliation by Professor Liliana Zavaglia, and The Fiction of Thea Astley by Professor Susan Sheridan were published. In 2017 Christos Tsiolkas: The Utopian Vision by Professor Jessica Gildersleeve and David Malouf and the Poetic: His Earlier Writings by Professor Yvonne Smith were published. New studies of Helen Garner, Roger McDonald, Frank Moorhouse, Michael Wilding, and Alex Miller are in preparation.
We are interested in proposals for book-length considerations of individual Australian writers with established reputations. In particular, we would welcome proposals on the fiction of Carmel Bird, Robert Drewe, Kate Grenville, Eva Hornung, David Ireland, Elizabeth Jolley, Andrew McGahan, Gerald Murnane, Kim Scott, and Tim Winton. We will also consider proposals with wider and more general scope, ones that provide an interesting and accessible reading of aspects of Australian writing.
The general editor of the series is Professor Susan Lever, who has been awarded with life membership of ASAL (Association for the Study of Australian Literature) for her "outstanding contribution to ASAL and to the scholarship of Australian literature more broadly."