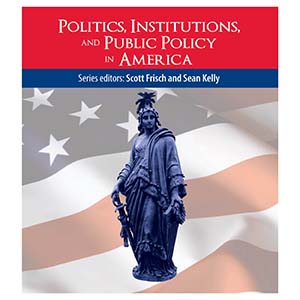 About the Series
Politics, Institutions, and Public Policy in America is a book series that will showcase high-quality research contributions in political science. The editors are professors Sean Kelly and Scott Frisch of CSU Channel Islands.
The editors believe that political science is relatively theory rich and data poor, and thus prefer studies that break new empirical ground over studies that solely focus on establishing new theoretical ground. They also believe that political science research has the capacity to address contemporary American politics in a way that is accessible to political professionals. Books in this series will draw on the many and varied methodological approaches available to researchers without prejudice, but authors must have the capacity to communicate their methods, findings, and study implications to a broad audience.
Books in Politics, Institutions, and Public Policy in America will:
address topics of broad substantive interest in political science and have relevance for political professionals
be firmly grounded in existing political science theories
utilize unique, new, and innovative data
employ appropriate methodologies including, but not limited to, quantitative, case study, historical, participant-observation, and mixed methodologies
have implications for understanding contemporary issues in American politics
Titles in this series have garnered excellent reviews in academic journals and won prestigious awards.
New Submissions
Proposals for this series can be submitted via this website.